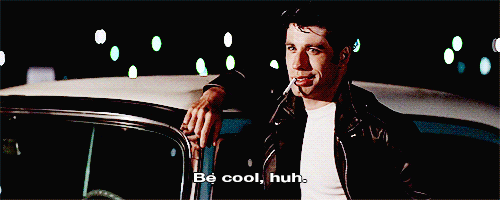 Like the little black dress we men have our version, the little black jacket. Doesn't matter what your personal style is, there is no denying the effortless cool of a black moto jacket.
The leather jacket can instantly transform a possibly "I've been wearing this for two days or so" look into a "Wow, you look great!" moment. The jacket is something you should invest in, at least once. A good leather will only get better with age and if you choose something non-trendy, it will literally last you forever.
"A good leather jacket will last you forever."
Currently, I'm obsessed with the Grease look! A simple white tee, black jeans, with white vans, wrapped up in a perfectly fitted moto (biker) jacket. Not only is it beyond comfortable, I mean come on, I'm in a tee shirt and jeans, but this outfit always makes heads turn.
So try it. Grab your little black jacket, a white tee, and find some lightning!